or how to put your finger in the Apple's hole:
3 things are needed: 
an image of Lion install 
a bootable usb key (or dvd if you prefer, but is less env friendly) with the 1. image
a mac book air 1.1 with Leopard and a usb port :)
Why: because I didn't wanted to buy Snow Leopard just to install Lion (which is by the way disappeared from the Fruit shops aka Apple stores)
How to make a bootable Lion install disc or drive
Part 1: For all types of media
Once you've obtained Lion, find the Lion installer on your Mac and choose
Show Package Contents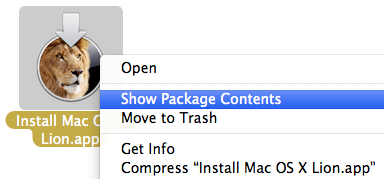 In the folder that appears, goto Contents->Shared Support where you'll find a disk-image file called
InstallESD.dmg
Launch Disk Utility (command-space and type: disk utility).
Drag the InstallESD.dmg disk image into Disk Utility's left-hand sidebar.
Then create a bootable hard drive or flash drive
In Disk Utility, select InstallESD.dmg in the sidebar, click the Open button in the toolbar to mount the disk image's volume in the Finder. The volume is called Mac OS X Install ESD.
Click Mac OS X Install ESD in Disk Utility's sidebar, then click the Restore button in the main part of the window.

Connect to your Mac the hard drive or flash drive you want to use for your bootable Lion installer. This drive must be at least 5GB in size (an 8GB flash drive works well), and it must be formatted with a GUID Partition Table. (see images)


Click Restore and, if prompted, enter an admin-level username and password. The restore procedure destroys all the data on the disk, so be aware of that.

Note: In versions of the Lion installer prior to 10.7.4, you didn't need to first mount the InstallESD.dmg image—you could simply drag the image itself into the Source field. However, with the 10.7.4 installer, you must use the mounted Mac OS X Install ESD volume or you will get an error


make Leopard appear like SnowLeopard or anything  
On your Leopard Mac, go to/System/Library/CoreServices.
sudo from a terminal or use an editor that allows you to edit system-level files—like TextWrangler—open
SystemVersion.plist.
NB Locate the
ProductVersion key
(not the ProductUserVisibleVersion key).
Just below that is a string of numbers indicating the OS version; for example 10.5.8.
Change that number to 10.6.6  save the file and then shut down your Mac.
set the mac to be reinstalled to boot from the usb disk you setup before 
To change your startup disk:
Open System Preferences and click Startup Disk.
If necessary, click the lock icon and type the name and password for an administrator user.
Click the icon of the disk you want to use, and then click Restart.
Then reboot the MAC and erase all the data from the inner disk through diskutility coming from the just booted usb disk (optional)
Install Lion 
configure and enjoy it 
Part of this tutorial is inspired by several articles that are here in
http://www.macworld.com
(search for lion and leopard eventually)
hope you find this useful and save sometime
Alex